SERVICES
Prairie Machine is a global leader in the manufacturing and supply of heavy-duty equipment and technical solutions for the heavy industrial and mining industries. We offer a wide range of manufacturing services to help your business and to solve your challenges.
As an OEM, Prairie Machine designs and manufactures the equipment we build for the mining industry. We have a powerful team with experience and ability to tackle the toughest challenges. Our team is our team, we do not contract to third parties, all expertise is in-house. Full integration between these teams means optimization every step of the way. By controlling the entire process from start to finish, our customers receive high quality, customized equipment solutions.
Let Prairie Machine work with you through all stages of the product development cycle. Starting with evaluating your needs, we carry the project through engineering, manufacturing, delivery, and implementation of the product.
Engineering and Design
We recognize that our customers have unique and specific needs. Our sales and engineer team collaborate closely with our customers to better understand their needs, and then with our experience and expertise can make recommendations to solve problems and increase productivity.
Using our vast on-site experience and technical ability we are continually finding ways to enhance performance and improve reliability. What's the point in spending time developing a product that does not work? Our engineering team designs with the real world in mind. From ideation through to final commissioning our equipment and our customers continue to rely on our knowledge and ability to supply innovative solutions.
MECHANICAL ENGINEERING
Prairie Machine has a dedicated team of highly experienced engineers and technologists who are trained in and use only the latest technology. Application Engineering works with our customers to understand the specific technical requirements and ensuring the products meets them. Production Engineering delivers the engineering design and the details required for the production team to bring it to reality.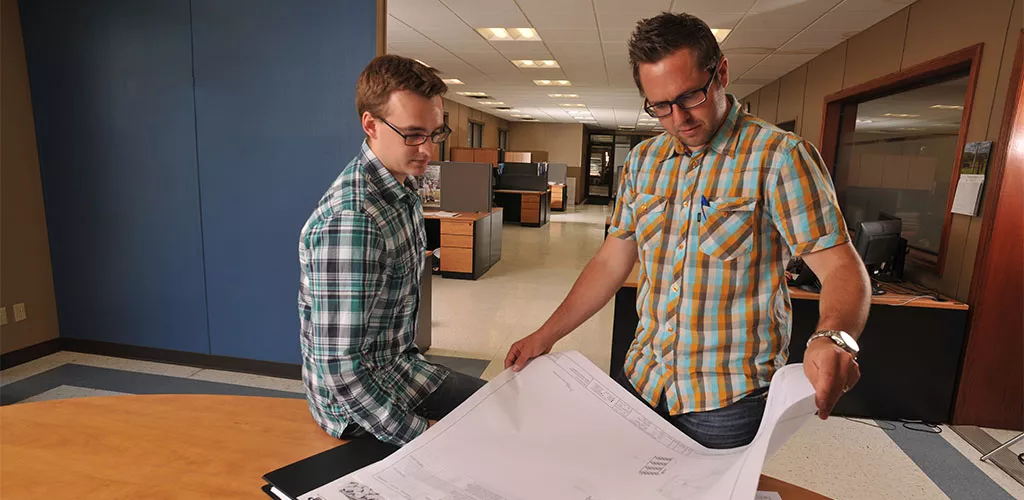 SUMMARY OF CAPABILITIES AND EXPERIENCE:
Mechanical Engineers & Technologists
3D Modeling - Conceptual to Detailed Design
Design, Production, & Fabrication Drafting and Detailing
Finite Element Analysis (FEA)
Engineering Design and Reverse Engineering
Mechanical Engineering
Component Selection
ELECTRICAL ENGINEERING
Ten individuals with 120+ years of joint experience make up our in-house electrical engineering team. This team manages the mechanical enclosure, high & low voltage circuit and control design as well as creating the final production documentation that our production crew uses to execute the work.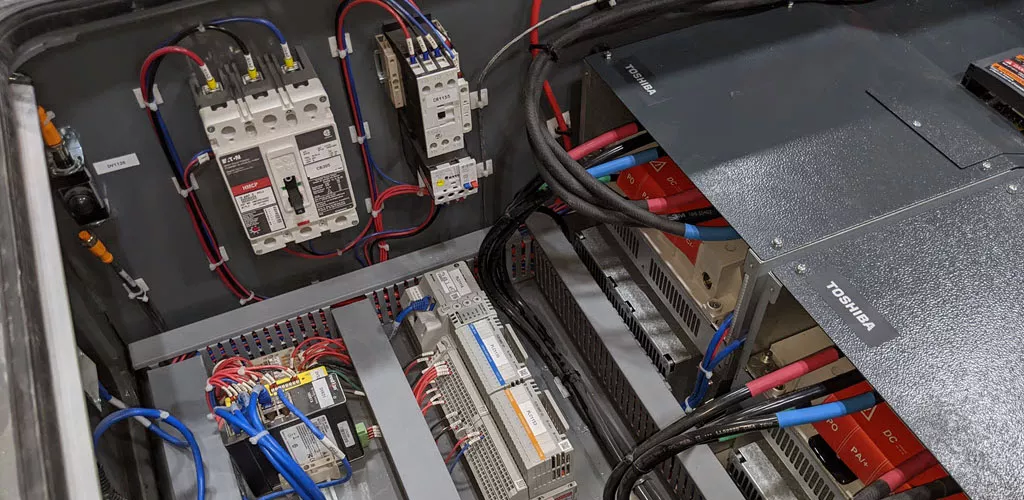 SUMMARY OF CAPABILITIES AND EXPERIENCE:
Electrical Engineers, Instrumentation & Automation Technologists
3D Modeling, Drafting, and Schematics
Power Distribution (High Voltage) System Design
Control Circuit (Low Voltage) System Design
Automation PLC/HMI Design and Programming
Control Panel Design
Harness & Cable Routing
ELECTROMECHANICAL DESIGN
Our electrical and mechanical teams work together to ensure the enclosures fit into the intended space as well as protect the internal components from the environment. This team is an integral part of the entire project team responsible for design of control system assemblies, boxes, enclosures, and cable harnesses.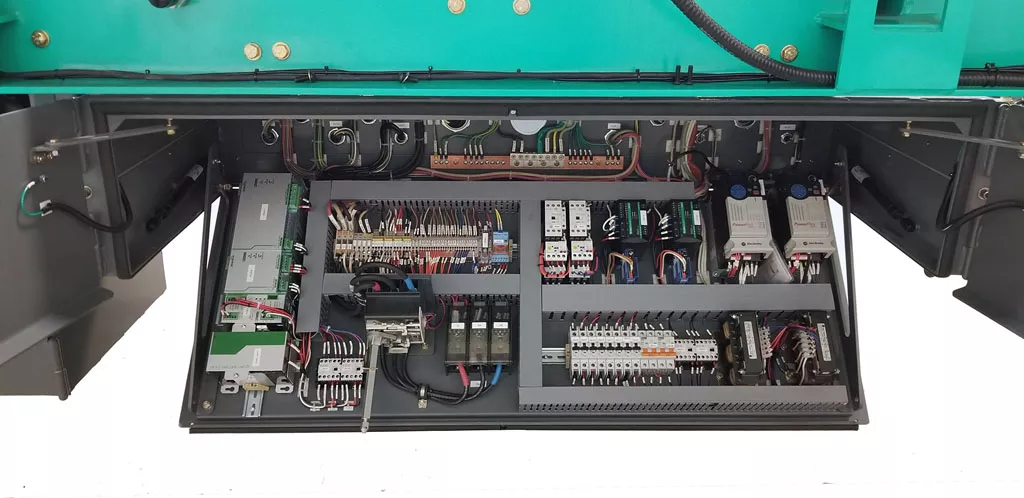 SUMMARY OF CAPABILITIES AND EXPERIENCE:
Ruggedized designs for longevity in mining applications
Mechanical enclosure design & layout
Utilize advanced 3D modeling tools for accuracy and safety
Integrated ground, safety, and disconnect switches
Interior panel lighting providing ease of maintenance
Machining
Prairie Machine has one of the largest machine shops in the province with over 20,000 sq/ft of floor space housing both conventional and the latest in CNC equipment. Between the facility, equipment, and the extensive skill sets of our team of journeymen and highly skilled machinists, we are able to handle both small- and large-scale jobs. We pride ourselves on how we can cater to individual requirements and constantly strive to deliver high-quality products.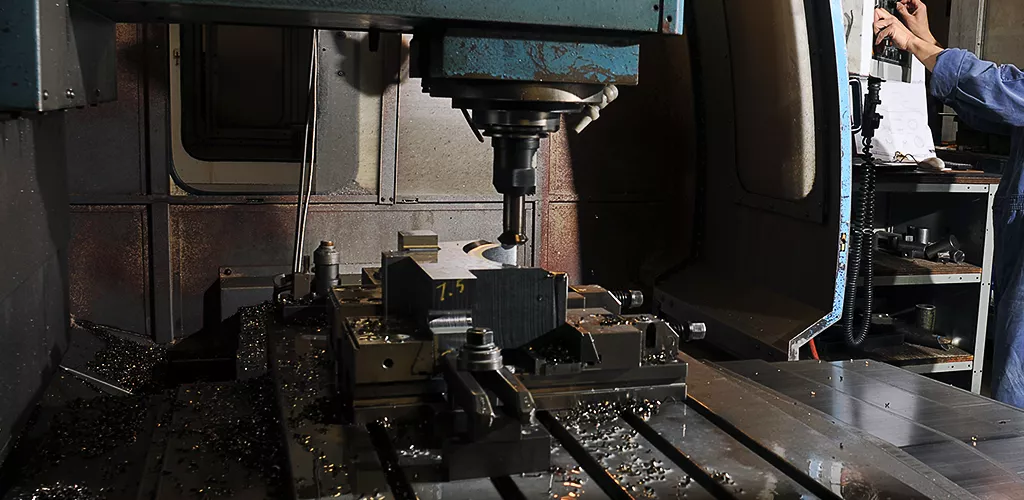 | | | |
| --- | --- | --- |
| Lathes | Chuck Size | Up to 46in |
| Lathes | Chuck Size | Up to 1170mm |
| | Swing | Up to 54in |
| | Swing | Up to 1370mm |
| | Bed Length | Up to 110in |
| | Bed Length | Up to 2795mm |
| Horizontal Boring Mills | X Y W | Up to 350in x 118in x 30in |
| Horizontal Boring Mills | X Y W | Up to 8900mm x 3000mm x 760mm |
| | Z-Spindle | Up to 46.5in |
| | Z-Spindle | Up to 1180mm |
| | Table | Up to 50in |
| | Table | Up to 1270mm |
| Vertical Boring Mills | X Y W | Up to 82in x 40in x 30in |
| Vertical Boring Mills | X Y W | Up to 2080mm x 1020mm x 762mm |
Welding and Fabrication
With over 25,000 sq/ft, 35 machines, multiple overhead cranes, and backed by our experienced team of CWB certified journey welders and fitters, our Welding and Fabrication shops are capable of handling almost any job – big or small – and continually deliver the highest quality products.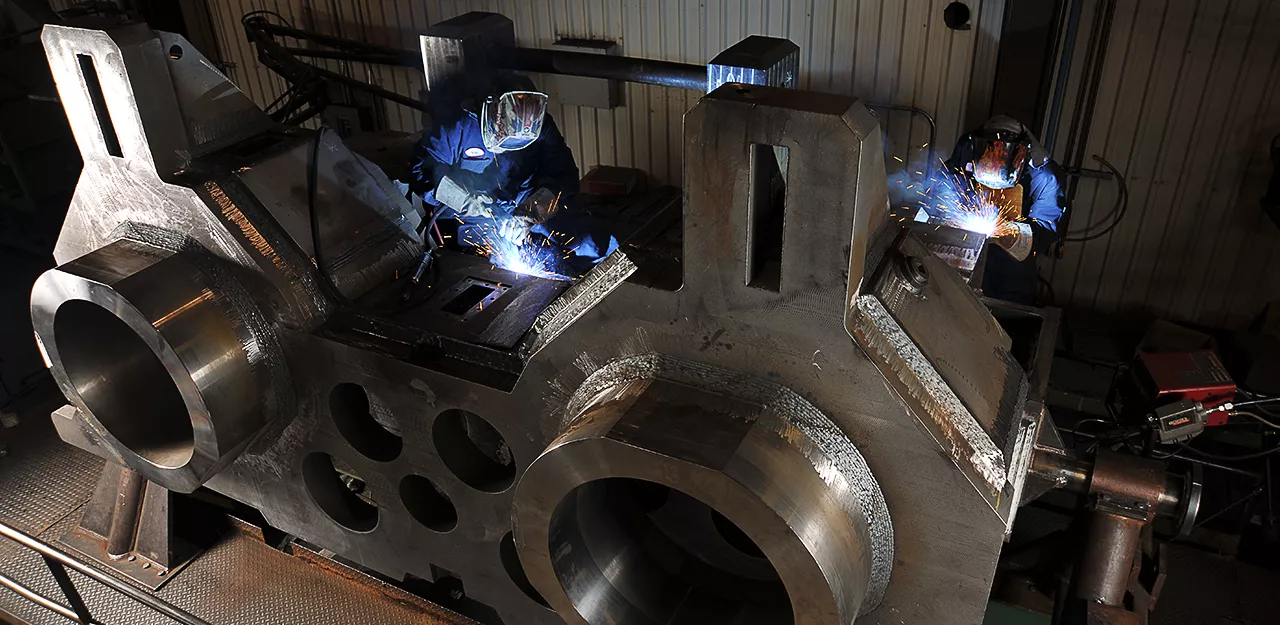 Machine Assembly
Our Assembly shops encompasses over 50,000 sq/ft of shop floor space allowing us to manage the toughest and biggest of jobs. Our team of industrial mechanics and millwrights are experts on assembly and repair of all types of industrial machinery.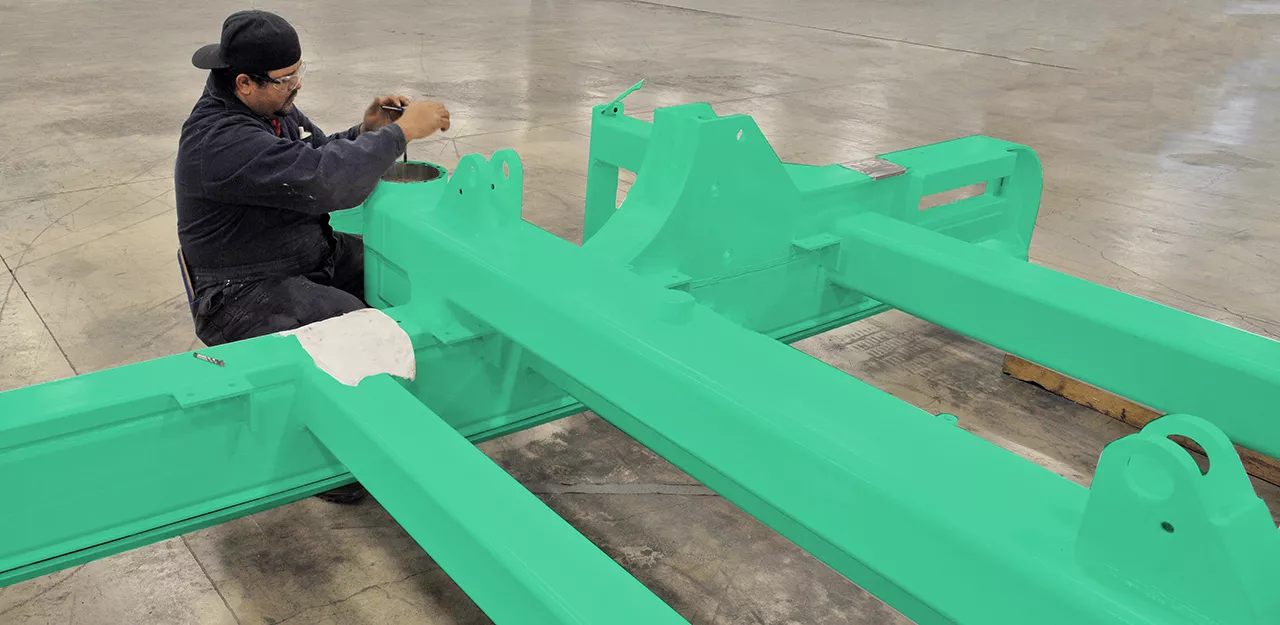 We feature the operations our customers need, delivered with high quality. With overhead cranes up to 50-ton capacity we can handle some of the biggest of parts.
Electrical
Prairie Machine offers a full complement of services from electrical design and software development through to manufacturing.
Our Electrical Department is one of the best at what they do; taking production designs and efficiently giving them form. From large mobile machines to small-fixed assemblies, they can assemble your machine's control system with proficiency and precision, with an emphasis on quickly and cleanly manufacturing compact, precise panel layouts and well-organized wiring runs.
PROGRAMMING AND SOFTWARE INTEGRATION
The Prairie Machine team of developers strive for the tight integration of equipment subsystems into one cohesive system. Our team is highly skilled in control system design, including the specifying the appropriate hardware and architecture.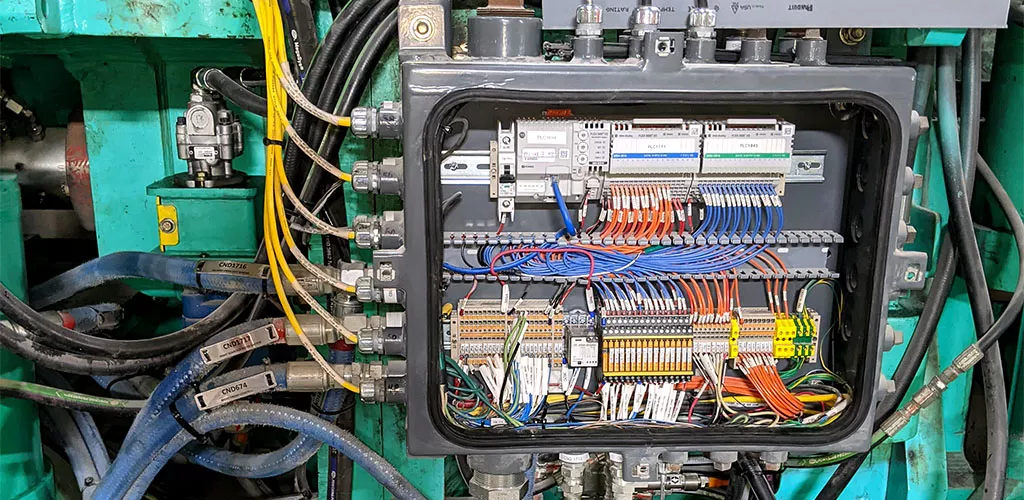 The operator to machine interface is critical in optimizing production from our equipment. This team collects user information directly from equipment operators and uses that information to design the Human Machine Interfaces (HMI).
We use a variety of Programmable Logic Controllers (PLC) allowing them to work efficiently and access critical data quickly. We aim to provide the best customer experience possible when interacting with our equipment. In many cases this also includes data integration for storage and analysis, proving insight into the performance of the equipment.
Production
Our manufacturing facility incorporates manufacturing, assembly, testing, and the packaging of all equipment we build. Our electricians and technicians are well equipped to manage complex box builds, electro-mechanical assemblies, PCB installations, harnesses, and cable and wire arrangements.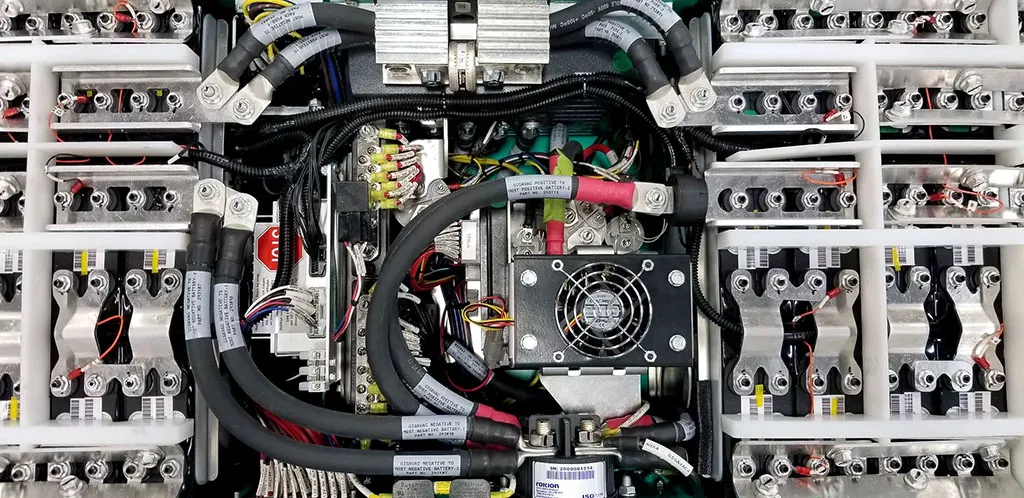 Quality is much more than supplying a product that functions properly. True quality is a way of thinking, a way of doing business and, ultimately, a way of satisfying our customers' long-term needs. ISO 9001 certification ensures that our service and performance are at the highest level.
CAPABILITIES
Assembly Shop 50,000 ft2
Electrical Shop 4,000 ft2
Custom Manufacturing
Unlike mass-produced-off-the-shelf products, custom-manufactured components supply agility and provides the customer the ability to design, engineer, and manufacture products fitting their specific functions and requirements. As operational parameters change, so does the equipment need to adjust to meet (or exceed) these changes.
Prairie Machine understands how each project is unique. Let us collaborate with you through all stages of the product development cycle – starting from evaluating your needs through engineering and manufacturing, to final delivery and implementation of the product.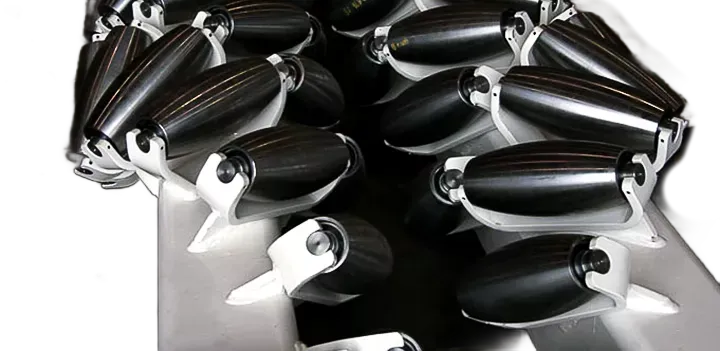 Whether looking for component replacement or developing new components to extend the equipment application we have a full-service facility offering everything you need to meet your specific needs. Including an experienced team of design engineers, highly skilled machinists, welders, and industrial mechanics who work together supplies a comprehensive and complete solution that meets all your custom manufacturing needs.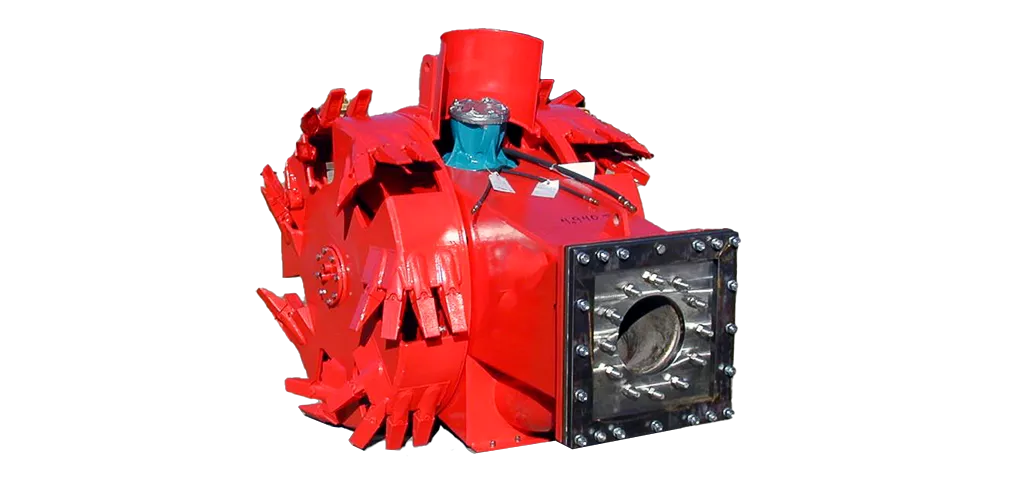 We have established ourselves as a preferred supplier of machined components as we continually show a high level of workmanship and provide our customers with outstanding custom-manufactured products in a timely, cost-efficient fashion. The quality of our products is one of our major competitive advantages.
Conveyor Systems
Once given basic size envelope and tonnage information, our Engineering Department can custom design a mining conveyor system to meet your requirements. A recent floor conveyor, for example, was needed to convey mined ore from the end of their Flexiveyor to the mainline belt. We custom designed it to meet the following requirements:
Receive 600 tons/hr
Length of 320 feet between head and tail pulley
Use a 42" wide belt with a conveyor cross-section of 3-1/2' tall X 4-1/2' wide
20' long sub-frames needed to be strong enough to be towed with beltline fully assembled (belt included), but light enough to be towed by scoop tram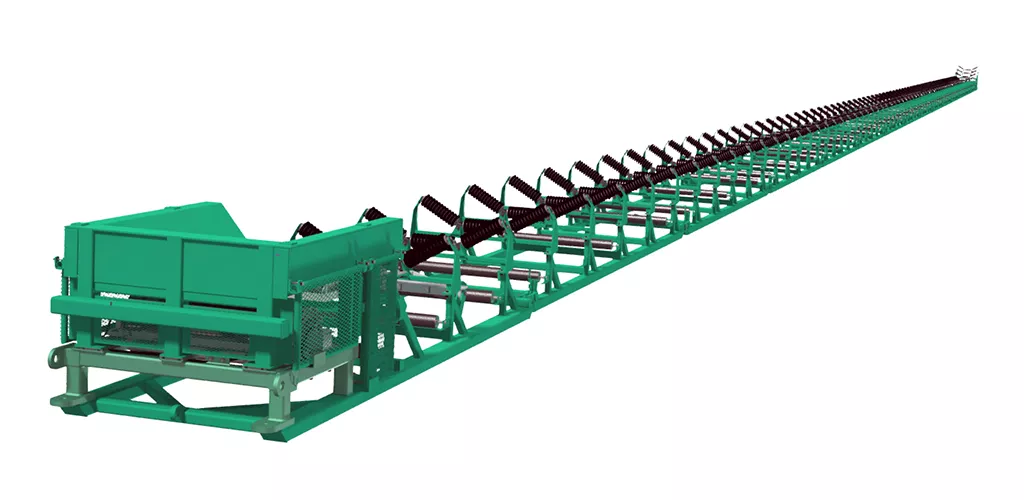 While meeting this criteria, the additional features were added to simplify its use for Operators:
Troughing rollers arrangements were made into sub-assemblies for quick replacement
Maximized ground clearance to reduce towing resistance
Added grease manifold for hard-to-reach maintenance points
Conveyor system can be re-assembled to receive ore from left or right side with universal components
Safety features include pulley guards, and an E-stop cable along the length of the conveyor.

Prairie Machine can design and build durable conveyor systems to suit customer requirements that operate in most environments. We specialize in designing and manufacturing customized equipment like the Floor Conveyor. Contact PRAIRIE MACHINE if there are specific engineering hurdles that you need to solve.



Repair and Rebuild
We understand that having broken equipment or being behind schedule costs money. Our team of certified technicians, machinists, millwrights, industrial mechanics, and welders have countless years of experience rebuilding and repairing equipment. It is important to us to keep your systems running at high levels for long periods of time.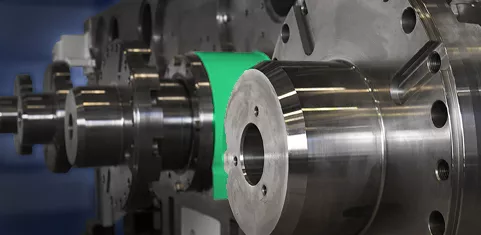 With an extensive portfolio of repair and rebuilds of heavy (and light) equipment, Prairie Machine is a step above the competition. This includes the repair, overhaul, rebuilding, and modifications of gear boxes, hydraulics, steel mill equipment (like the Slab Caster segments used at the EVRAZ steel mill), and mining equipment (and not just our own).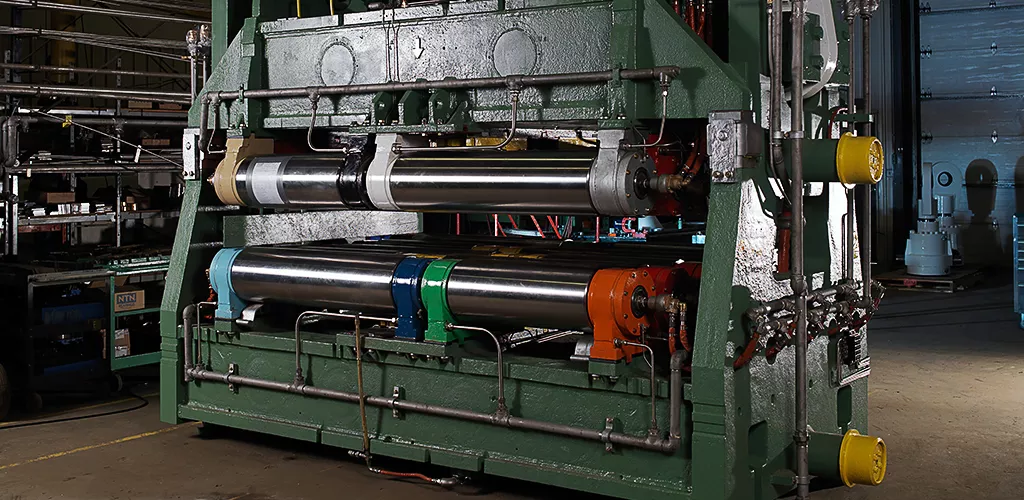 Whether on Prairie Machine equipment or other heavy equipment we have the people, resources, and facilities to offer cost-effective repair and rebuilds delivered in a timely fashion. Items come to us after producing thousands of tons of product, we tear them down, build them up, and send them back in new condition.
TechCenter
VEHICLE INSIGHT AND ONLINE PARTS ORDERING
TechCenter is an online platform which connects you to Prairie Machine's service experts. Once a user is registered, TechCenter links directly to your specific piece of Prairie Machine equipment. From there, users can access equipment health and performance reports, view relevant safety and service updates, access online troubleshooting support, take advantage of dynamic parts ordering, and much more.
DATA COLLECTION
Through TechCenter Connect, mine staff can view and upload reports from their equipment's on-board Data Logger in real time. These Data Log reports offer the user insight into the performance and health of their equipment and allow Prairie Machine staff to develop equipment trends and preventative maintenance procedures.
SERVICE PORTAL
The TechCenter Service Portal allows users to access troubleshooting articles related to their equipment and to directly submit any unique problems they may be experiencing to Prairie Machine service experts. After analyzing the issue, Prairie Machine staff can then offer remote support or dispatch service staff to resolve the problem on site. Once the issue has been resolved, a record of that issue is saved within TechCenter and is used to facilitate Prairie Machine's continuous improvement efforts.
PARTS CATALOG
The TechCenter online parts catalog gives users access to on-demand parts ordering - ensuring a site has the parts they need when they need it.
Traditional parts catalogs can keep maintenance staff busy sifting through outdated documents searching for the correct information. The TechCenter parts catalog is serial number-specific, ensuring that a site never receives anything that is incompatible with their equipment.
SAFETY
TechCenter service announcements provide users with software update notices, hardware upgrade recommendations, and revised safety protocols to ensure safe and efficient operation of all Prairie Machine equipment.
For more information on how you can take advantage of the TechCenter platform, please contact Prairie Machine.